For Co-founder and CEO of ILERA Apothecary, Chinonye Akunne, helping people, communities, and the environment has always been at the heart of her business. Her plant-based, ethically sourced skincare products help people feel and look more confident. We chatted with her about ILERA Apothecary's journey, how they're adjusting to COVID-19, and why they donate a portion of their profits to empower women in Haiti.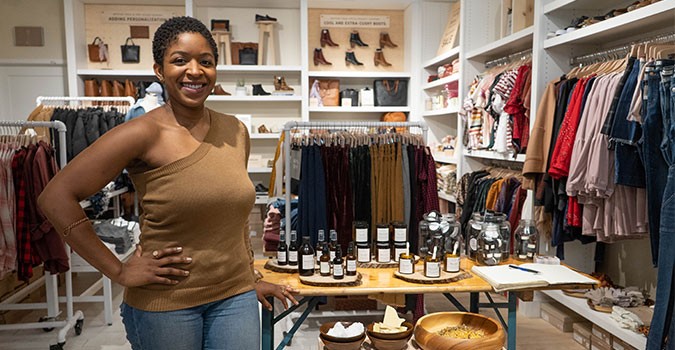 Tell us about ILERA Apothecary.
ILERA Apothecary launched in 2015. We create plant-based skincare products with the highest quality and ethically sourced ingredients. At ILERA Apothecary, we believe in the power of love and support found in community. We are committed to making an impact on our customers, employees, and local areas. Our store is more than an online marketplace and physical retail location—we provide a diverse, inclusive space for in-person wellness events, curated pop-up shops, and community building.
How did ILERA Apothecary get its start?
Intrigued by human toxicology and exposure prevention, I received my Masters in Public Health, specializing in Environmental Health Science. During this time, my youngest brother approached me about helping him make a vegan deodorant. While making deodorant for my brother, I realized I enjoy creating products that make people feel confident, and my business ILERA Apothecary does just that. Our customers feel self-assured, knowing they're using the best products for both their skin and the environment. We carry a range of body moisturizers, cleansers, masks, and oils.
How does it feel to do what you do? Why do you love it?
It feels amazing to do what I do, and I absolutely love it. There is something special about creating wellness products from scratch and interacting with our community via social media and events. The business is growing, and I learn multiple things every day that help us have a greater impact on the community. I love providing wellness tools that help people look and feel confident.
How does it feel to be five years down the road? Knowing what you know now, what advice would you give yourself starting out?
Five years! Being in business five years is a major accomplishment for my team and me. We have grown to be a national brand with a strong array of retail brand partners. If I could go back five years, I'd tell myself to think bigger and truly harness the belief that the business can and will be a major player in the beauty industry, in particular green and clean beauty. I've experienced imposter syndrome and had to tell myself that all the great things that happen in the business are because of the hard work and dedication I've put in.
How does running an online store—and using Authorize.net specifically—factor into your business success/goals?
Our business has been online from the beginning. For months, I researched the best merchant account. After speaking with many companies, I decided to go with Authorize.net because it seamlessly integrates with my shopping platform, it generates reports that help me analyze the business, and it can accept payments of all types.
How has your business been affected by the pandemic? Any advice for businesses that are just coming online because of physical distancing?
Entering 2020, our growth plan revolved around attending large-scale events and trade shows. Due to the pandemic, we have redirected our efforts to foster growth and engagement with our online community through email, social media, and collaborations with other brands. This has helped us tremendously and has resulted in business growth. Anyone who is just coming online due to social distancing should do their best to engage and provide value to their community. Keep them informed by creating blog posts, go live on social media for interactive engagement, and connect with other brands. The online business community is very supportive during these times, and leaning on each other.
August is National Black Business Month. What does celebrating and supporting Black- and African-American-owned businesses mean to you? How can communities and institutions show their support in meaningful ways?
I'm happy that people are embracing supporting Black businesses. As a Black business owner, I am able to provide resources and opportunities to people who may otherwise not have them. Communities and institutions can show their support in meaningful ways by encouraging their network to shop with local businesses, in particular those that are Black-owned.
Tell us how you're supporting the global community?
We partnered with a nonprofit organization called Jasper's House Haiti whose mission is to empower women through education, employment, and mental health initiatives. Every month, we donate 5 percent of our profits to them. We chose to work with this organization because of the generational impact it has on the community.

Check out ILERA Apothecary's website to learn more about their plant-based skincare products.