Accept In-person Payments through Your Computer

February 25, 2020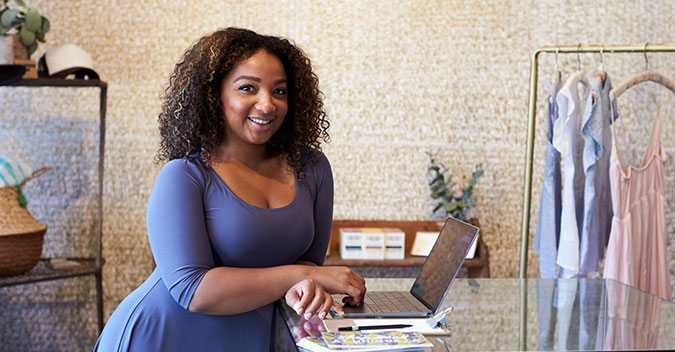 Accepting in-person card payments doesn't mean you have to invest in a bunch of expensive equipment. With VPOS—short for Virtual Point of Sale—you can easily turn your laptop or desktop into a card terminal.
Better yet, VPOS is a value-added service that comes with your Authorize.Net account. That means you'll also get access to other payment solutions as well as 24/7 awarding-winning customer support.
VPOS versus traditional card terminals
Countertop card terminals, like the ones you tend to see at the supermarket, can cost several hundred dollars and require bulky hardware. In contrast, the Authorize.Net VPOS solution just requires an internet connection, an inexpensive card reader and a PC1 computer (desktops and laptops both work). With that, you'll get all the functionality you need to accept card payments and issue receipts. It's a simple, flexible solution that'll get you up and running quickly.
How It Works
1) Install the Authorize.Net VPOS app
Our browser-based app provides you with an easy-to-use interface for processing cards, issuing credits, performing voids and issuing receipts. All you need is an internet connection.
2) Connect a compatible card reader
Our partners at POS Portal offer fast, secure, affordable card readers that can connect to your computer via Bluetooth, USB or audio jack. Right now their BBPOS Chipper™ 2X audio jack card reader is available for only $652. Once you have your reader, simply connect it to your computer, and you're off and running.
More VPOS perks
Receipts made easy
VPOS is compatible with any standard 8.5" x 11" laser or ink jet printer. If you prefer a thermal receipt printer, we recommend Star or Epson® connected via USB or Bluetooth. You can also email receipts to your customers and adjust signature settings.
Fast checkout times
Improve customer experience with a set up that can complete card transactions in as little as three seconds.
Security
Select which computers are authorized to run transactions with your card reader and receive alerts if unauthorized connection attempts occur.
To learn more about VPOS, see our FAQS. To get started with Authorize.Net, sign up online or call us at 1-888-323-4289.
1Windows Only PC or Surface, versions 7, 8 and 10 when used with the Chrome and Firefox browser v50+ or Edge browser v15+ (Windows 10 OS build 15063+).
2Price subject to change

* All rights reserved. All brand names and logos are the property of their respective owners, are used for identification purposes only, and do not imply product endorsement or affiliation with Authorize.Net.