July 23, 2018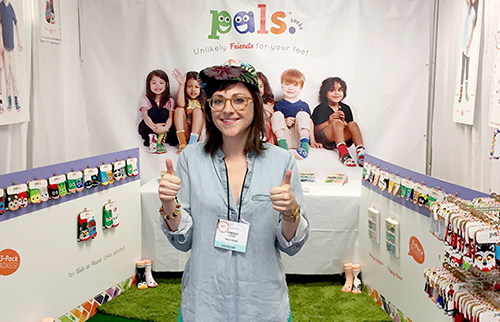 Anyone can make animal socks. Anyone can make socks that don't match. But Pals Socks does something different. Each pair of Pals Socks has two different characters or creatures who are not normally friends, whether it's a unicorn and a dragon, or a cat and a dog. And the playful pairs have proven to make for a successful business model.

"Pals promote being friends with someone different," Hannah Lavon, Founder of Pals Socks, says. "You can be friends with someone who is not exactly like you, be it the way you look, your religion, even if you have a different favorite color. Pals Socks introduces this open-minded friendship concept to kids in an easy and unassuming way that will impact their life as they grow into adulthood."
How did Pals Socks get its start?
"After college, I started dabbling in designing paper goods like cards and posters with an initial $600 investment. I would sell them at local markets. I saved enough money from those meager earnings to design mismatching predator and prey mittens so your hands could stay warm and entertained on the go. This evolved to socks, as mittens have a very short selling season. But I changed the concept to become one of friendship instead of fighting, a message I would love to see expressed more in today's world.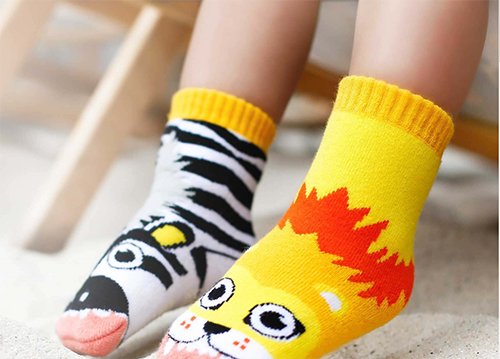 "At first, I had no intention of starting a business, as I went to school for advertising design and assumed I would move up the creative ladder in the agency world. But after a few years of employment, watching a lot of the now defunct show 'The Big Idea with Donny Deutsch,' and attending gift trade shows with my mom (she had her own novelty Judaica store), I decided I wanted to work for myself making the creative goods I designed. I had no money, no experience in retail, manufacturing or marketing."
What does it mean to share your fun socks with the world?
"I think words like 'diversity' and 'kindness' are very prevalent these days but have also become such buzz terms that they often whiz on by without having the effect they should. Pals is an easy teachable moment about acceptance, joy in unexpected friendships, and how fun it is when you keep an open mind and try new things. It is boring to wear two of the same socks, just as having friends that are so similar to you doesn't inspire curiosity. Two different socks create a world of questions and dialogue, turning feet into puppets who want to learn about each other and go on adventures. The same can be said about two different people in real life! I wanted to create a product that creates positive impact in that realm, not just sit pretty on a retail shelf."
How has your experience been working with Authorize.Net?
"We have an online shop that is our digital storefront. We also have pop-up shops seasonally, and are in online stores, and retail stores across USA, Canada, Australia, Europe and South America." The first time we sold a pair of socks from our online store with Authorize.Net, it was amazing. Every time I make a sale, it is still as thrilling. Our customers want good-quality, affordable, unique and creative products with a great message. Authorize.Net allows us to provide this to our customers with a straightforward and hassle-free system that we were also able to link to our shopping cart software, WooCommerce.
"I actively use Authorize.Net's Advanced Fraud Protection Suite, and it is super helpful because it will decline a card with suspicious usage. It's nice to have that extra safety in there, and if the card is legitimately suspicious, a customer can try a different card that should have no issue.
"We would not be able to have such a successful online store without being able to accept payments easily and reliably with Authorize.Net. It's 100 percent necessary to having an online business."
Follow Hannah @palssocks on Facebook and Instagram with the hashtag #wedontmatch, and check out their website.
Want your business to be featured? Submit your story.