March 10, 2018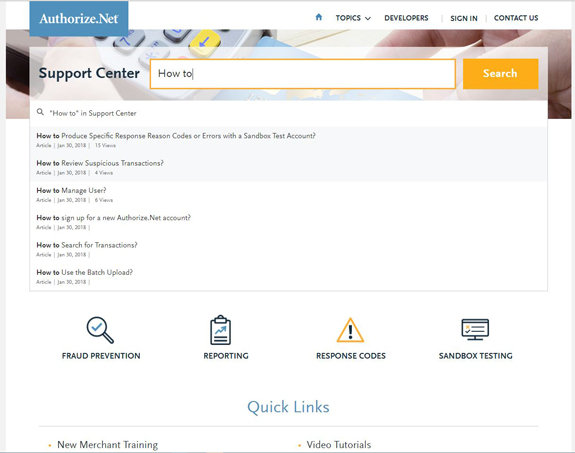 Authorize.Net Merchants,
Rumors have been swirling that Authorize.Net will be introducing an improved Customer Support website this year. Well it's official; we're pulling back the curtain on the updated site and a brand new customer experience. There's too many changes to list, but here's a look at some of the improvements we've made.
Keeping It Simple
The most notable change in the site is the redesigned interface. It has a clean look and feel, which translates to a very user-friendly experience. Now it's easier to find what you need.
Searching Is Easy
For those times when you think you might be close to knowing how to resolve a support issue, it might make more sense to just search for documentation. We've made it easier and quicker for customers to search for and find the support documents they need.
Simplified Support Requests
Submitting a request for support shouldn't be difficult. We've simplified the submission process for support requests thru General Support case and custom case types (Apply for ECC and Processor Update), along with reducing the number of required information fields.
The new search system performs searches on the text you are entering to offer up solutions/answers whereas the legacy search function wasn't as interactive or intelligent and it required you going thru multiple steps to be offered up a potential answer.
Mobile Friendly
Being able to do work away from an office desk is essential in today's business environment. We've provided a new mobile-friendly user experience.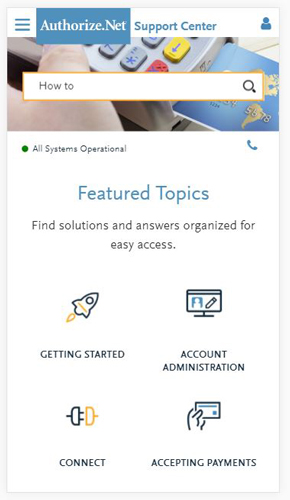 Visit the Authorized.Net Support Center to check out all of the improvements we've made to the site. It should be pointed out that you'll still interact with the site in all the ways that you are used to—it's just going to be better.
Thank you to all our Authorize.Net customers.