August 08, 2018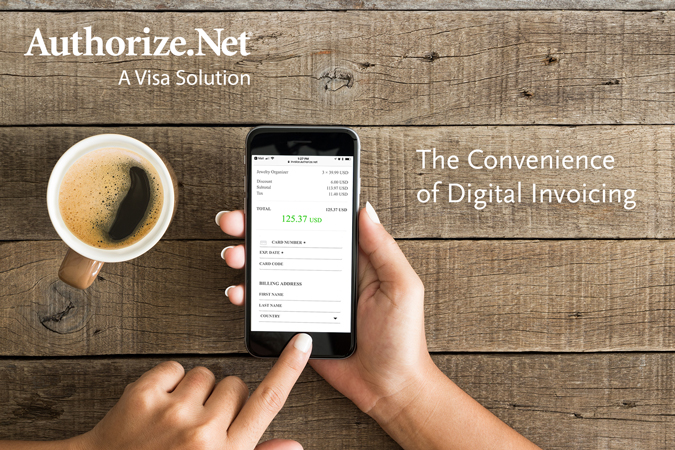 This month, Authorize.Net released our updated invoicing feature to more than 440,000 merchants. Junie Kim, Digital Invoicing Product Manager, shares more about this feature in this inside look.
Tell us about this new invoicing feature.

In the past, merchants were required to send invoices manually, which could be time-consuming and costly. Now you have the ability to automate it, and review the status of every invoice in the Authorize.Net Merchant Interface. Digital invoicing with Authorize.Net gives you a simple, fast option to bill your customers at no additional cost to you. It's a native feature on the Authorize.Net's platform that can help you save time and money by sending digital invoices using a simple template.
You can also add your company's logo and a personal message to your company's invoices. All you need is an email address to send an invoice, allowing your customer to make a payment online—even from a mobile device.
What inspired this product?
The project was kicked off with a working prototype that was conceived at an Authorize.Net hackathon. Then, we began a collaboration with some partners to define a minimum list of features for the first release. The real work began with a development team assembled from user experience design, sales, and customer support. I have to say that the cross-functional team did a fantastic job on turning this project around so quickly. We were able to release the product November 3rd, 2017. The newest version was released August 7th, 2018, with additional customization features for invoices.
What's new in this release?
Many of our partners had significant portfolios of customers who were under-served for simple on-demand payment capabilities. Those same customers couldn't use Authorize.Net due to the absence of an invoicing feature.
In the most recent release, we added the following features:
Customization options: You can now upload your business logo, change your display name, change the invoice header, and pick background and font colors. You can also add personal notes and custom descriptions to all invoices. These changes are all previewable before saving.
New Settings Page: Manage your invoice customization & settings from the new settings page

Multiple Line Items: You can now add up to 30 different line items on one invoice to provide more detail for your customers
Filter by Invoice Status: On the dashboard, you can filter by invoices Sent, Paid, Canceled or Draft
Search by Invoice Number: To quickly find a specific invoice, type an invoice number in the dashboard search box

Automatic Email Reminders: Now your customers can receive a friendly reminder for unpaid invoices. We will automatically send them an email five days before the invoice is due, and one day after the invoice is overdue. You can turn this off if you like.
When your customers pay the invoice, they use our secure payment form, which helps simplify your PCI DSS compliance, just as before. Invoicing is a and ready-to-use feature for no additional cost; however, you must enable Customer Information Manager (CIM) to activate Invoicing (also at no additional cost).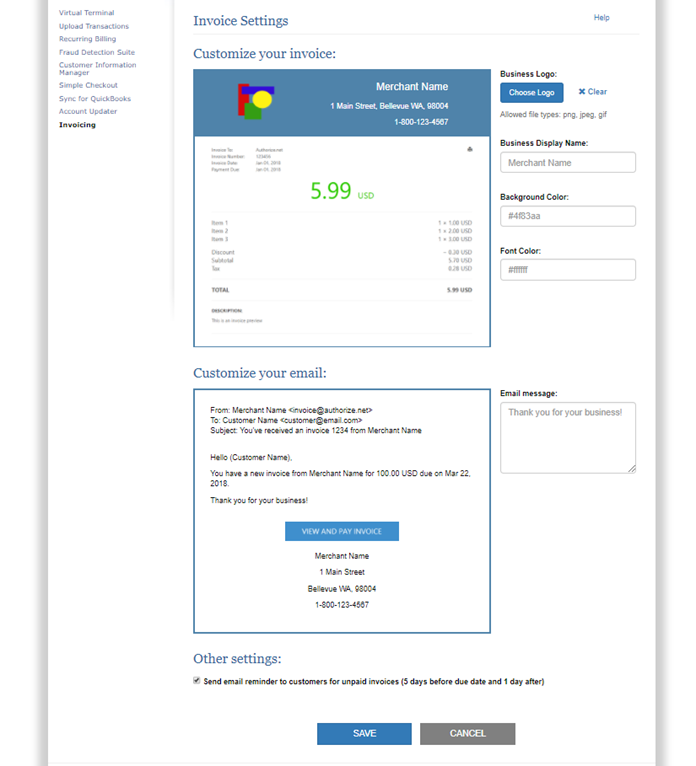 Businesses can create and send an invoice in minutes by filling out a simple form.
How will this help merchants?
Offering electronic payment capabilities can help you get paid more quickly and securely, particularly when customers can easily view and pay from any device. Prompt payment can help solve many of the cash-flow issues that plague so many businesses.
In the past, getting paid in a timely manner could be challenging due to the need to manually invoice. Now you have the ability to virtually eliminate a process that could be both time-consuming and costly. You'll also have the ability to review the status of every invoice in the Authorize.Net Merchant Interface.
There's also plenty of support for invoicing. We have an Invoicing-specific FAQ, and our 24/7 customer support line is always there to help.
Additional information on this feature can be found at our invoicing page.