November 25, 2019
Guest Blog Contributor: Nikita Martynov is a Senior Product Manager at PandaDoc, a platform that simplifies the process to create, send, track, and eSign sales documents. Nikita has ten years of experience in product development, eCommerce and digital marketing. He is passionate about making a positive impact on people's lives with tools that make them more productive and successful.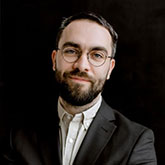 Delivering excellent customer experience in our instant-everything world isn't easy. However, a payment collection process that provides convenience for your sales team and customers is a win for both parties.
Brent Adamson, the principal executive advisor at Gartner, says, "with more information, options and people involved in the buying process, buyers are paralyzed when trying to move forward."
Help your buyers say yes by accepting credit card payments within your proposals. Doing so is an ultimate call-to-action and can help to propel buyers to finalize the deal with online payment. A seamless transaction benefits both sides resulting in more sales and happier clients. Let's take a look at some of the common challenges that today's sales teams face and how integrating payment technology into your sales proposals can help solve those problems.
1. Buyers predominantly want self-serve transactions, why aren't you giving that to them?
Aberdeen Group said in 2015 that, "both Gartner and Forrester predict that, in the next year, by 2020, more than 80% of the buying process will occur without any direct human-to-human interaction." While we will have to wait to see if this is proven true, transparent and concise communications impact the customer experience. Buyers prefer the convenience and sense of control that comes with digital payments and the various payment configurations that you can offer, based on your business needs and the needs of your customers.
Consider the following types of flexible payments that you can facilitate:
Payment plans to collect installments before services are rendered or products are delivered;
Partial payment options such as 50% upfront and 50% upon completion;
Various payment methods such as credit card payments or ACH.
Flexible payments keep your buyer happy while also satisfying your bottom line. Plus, an easy yet secure payment collection process reassures nervous customers.
Adding online payments to your proposals is a convenient way to collect payments. Doing so satisfies customers and your sales teams. In return, your sales reps can spend more time delighting clients instead of securing payment.
2. Sales teams are often overstretched with a high administrative workload
Today's salespeople only spend 35% of their time selling. So anything that you can do to automate administrative tasks, such as payment collection, can free up time to be spent selling and on customer retention.
Companies use tools to prevent costly mistakes and save time. Smooth transactions help companies expand without investing significant resources in repetitive tasks. Automate payment collection by:
Setting up auto-reminders for proposal recipients so that your reps don't have to chase prospects for signatures or payment.
Creating an approvals workflow for your internal team to review and greenlight proposals (and the embedded payment blocks) without manually "tagging" the next person in the review process.
Integrating your proposal system with the other tools in your stack using native integrations, webhooks or Zapier to create a seamless flow of data to and from PandaDoc (which Authorize.Net integrates with). Integrations have become a cornerstone of automation. In fact, a Deloitte report about automation states, "business processes and applications that do not talk to each other translate into increased costs, unnecessarily high-cycle time, inconsistent quality, and impaired agility."
3. Too much time and money is wasted on collecting payments, especially late ones
The debt collection process is tedious, and employing a debt collection agency is expensive. Data from Sage shows that SMBs spend "an average of 15 days a year chasing late payments."
By including online payments on your sales proposals or contracts, you can help secure funds almost immediately.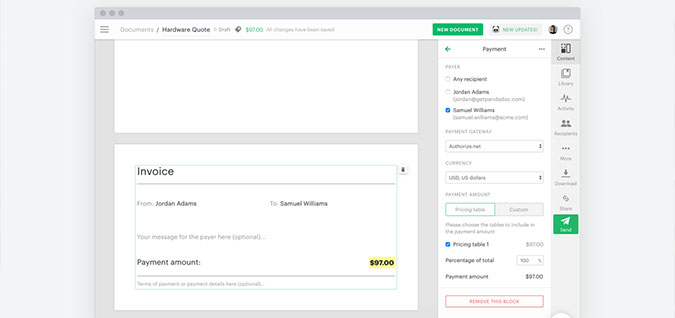 With PandaDoc, embedding payment blocks in a proposal means secure third-party payment processors that are PCI DSS compliant so you can provide a secure payment experience instantly to your customers right within your PandaDoc document when they are ready to sign the deal.
4. Conversion suffers from inefficiencies in the sales process
From unclaimed online shopping carts to a long sales cycle, making a final sale is tough. The CMO Council finds, "lost productivity and poorly managed leads cost companies at least $1 trillion every year." Understanding your client's pain points is key to closing deals.
With payment integration, your buyer can review the information on their terms. Then, convenient options make purchasing simple. Instead of clicking away from your proposal to pay, buyers can use their credit card for immediate payment. In return, your sales team completes the sale and can move on to the next account.
5. Cash is king and an alarming number of smaller businesses fail due to cash flow problems
A U.S. Bank survey discovered in 2017, "82% of businesses fail due to cash flow problems." Outstanding invoices don't help your accounts receivable. Unfortunately, according to a Sage study, "up to 13% of payments in the United States are paid late and a proportion of those invoices, 10%, are written off as bad debt.
Both of these statistics are troubling for organizations of all sizes. Avoid a long list of late payments and past due accounts by adding payment options to your proposal.
The benefits to your cash flow include:
A down payment option is easier for your buyer to digest;
Online payments from your proposal remove the lag time between sending proposals and invoicing;
Integration between proposals and your payment solution reduces payment processing time;
Digital payment options have the ability to boost your accounts receivable almost immediately.
Cashflow problems are compounded as many businesses experience payment delays (up to 66 days globally) and failures due to detached contract closing and payment collection processes.
After a deal is closed with a signature, the next step is to collect payment–why not shorten the time between receiving a signature and the customer's payment?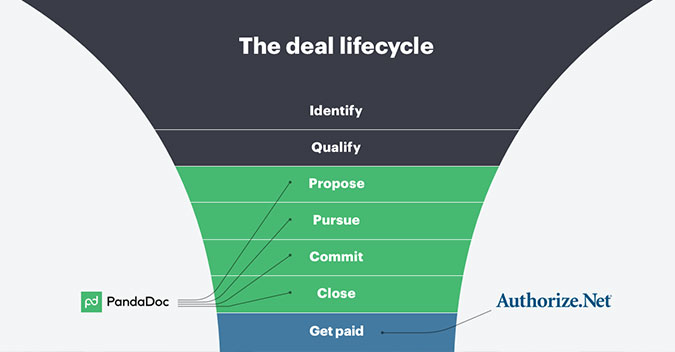 This is where Authorized.Net can help. Authorize.Net is a leading provider of payment management solutions and helps businesses accept credit cards, contactless payments and e-checks in person and on the go.
All you need to do to start accepting payments in your PandaDoc proposals is enable the integration in settings within the app, set up the payment block, and then drag and drop the block into your document. On average, PandaDoc customers report a median time to collect of only three days.
**Please note: We are not compensated by Authorize.Net to promote the integration. Any merchant fees for processing payments through PandaDoc are determined by Authorize.Net. PandaDoc does not charge customers processing fees.
6. Internal communication is tough and poor technology (or a lack of) can make it even harder
The Harvard Business Review revealed in 2015, "44% of executives say their organization is ineffective at managing a formal sales process." Improved communications is an advantage of adding payments to your proposal.
Once you add payments to the proposal itself, then your team can view the status (and comment feed) for any proposal (and associated payment!) on the dashboard, as long as they have permission to do so. Additionally, you can trigger alerts to your sales team upon proposal views as well as set automated reminders to the prospect as the proposal ages.
From marketing to sales, communication across departments is crucial to a seamless sales process. You can rise above the competition by accepting payments with your offer. After all, your workflow improves with current information, automated reminders and seamless transactions.
Remove friction with payment collection automation within your proposals
Streamline your business's payment processes while also overcoming cash flow challenges like longer-than-necessary payment cycles as well as painful late payments and delinquencies by embedding payments right within your sales proposals.
By doing so, customers can move instantly from signature to payment, reducing both the time between "accept" and "paid" as well as the time spent by your team on the administrative tasks of generating an invoice, sending it and tracking it–all in addition to the signed proposal.
Integrating payments to your proposals turns each proposal into an opportunity to quickly scale and get paid promptly.
About PandaDoc
PandaDoc is a deal acceleration platform that simplifies the process to generate, negotiate and eSign proposals, quotes and contracts. This intuitive and easy-to-use platform allows sales teams to close deals faster and look more professional with pre-built templates, realtime notifications, embedded media and seamless integrations. Over 14,000+ plus customers have accelerated their deals with PandaDoc.