October 02, 2018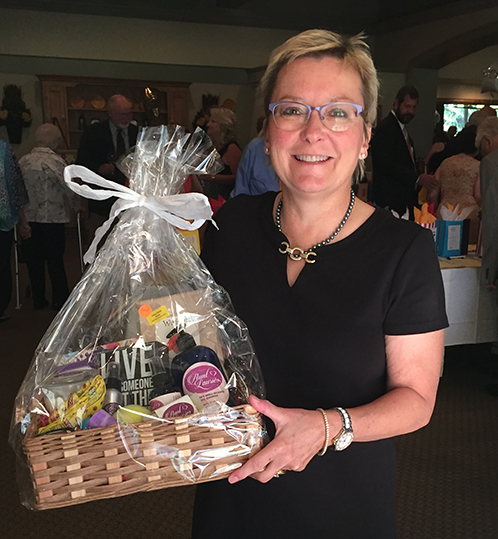 October is National Disability Employment Awareness Month, when we celebrate inclusion, diversity and the many contributions of America's workers with disabilities. Learn how an Authorize.Net merchant, Laurie Brown, creates beautiful gift baskets while helping people with disabilities learn job skills at her company.
Aunt Laurie's is a gift basket company driven by a passion to help people. The high-quality baskets are handwoven, signed, and assembled by people with disabilities learning or reclaiming job skills at SC Vocational Rehabilitation. Many of the products are made by people with disabilities, which makes these special gifts have even more purpose and meaning.
How did Aunt Laurie's get its start?
"Spending almost 30 years in the corporate automotive world, I was fortunate to acquire my education, skills, and to travel the world. Throughout corporate life, I was always involved with multiple organizations and events helping people and animals. Corporate life finally became stifling and unfulfilling. In 2014, I made the huge leap of faith and left corporate life to follow my passion for helping individuals with disabilities.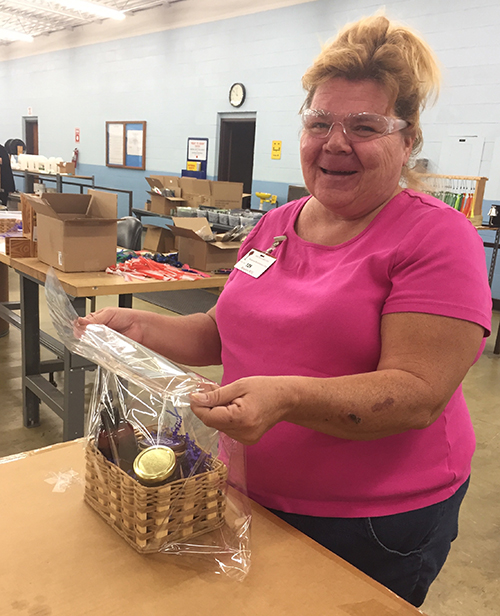 "We currently sell gift baskets on our website. I always loved giving gifts and making gifts meaningful, so Aunt Laurie's business model was a perfect fit. In fact, I still have the first $10 bill we earned at our launch day as a reminder of how rewarding our work is."
How does it feel to make such an impact on an underserved community?
"Helping individuals with disabilities learn job skills and giving them an opportunity to be productive fills a huge void in our community and society.
"When I work side-by-side with someone with autism, for example, while they assemble an Aunt Laurie's gift basket, it is the most awesome experience. Watching our baskets being handwoven patiently and carefully and then signed on the bottom by someone with a disability is incredible.
"Then seeing that basket assembled and shipped to a very special person across the country is also very rewarding. Enabling individuals with disabilities to package our products or paint our ceramics, and then seeing them smile because they're so proud to show me their work—that's why I do what I do!"
How has Authorize.Net supported you in your journey as a business owner?
"Having a family member in the merchant services industry, I was fortunate to have industry insight and guidance. It was without a doubt that Authorize.Net was the correct solution, so from day one, Aunt Laurie's website was integrated with Authorize.Net.
"Since Aunt Laurie's business is driven online and offline, our website uses Authorize.Net as our payment solution. I frequently also use the virtual terminal for offline orders as well as the reporting features. I am currently in process of QuickBooks synchronization. The customer support at Authorize.Net is awesome. They're very knowledgeable, and I like the live chat feature.
"It is extremely rewarding to work and support individuals with disabilities, and Authorize.Net helps us do this without fail."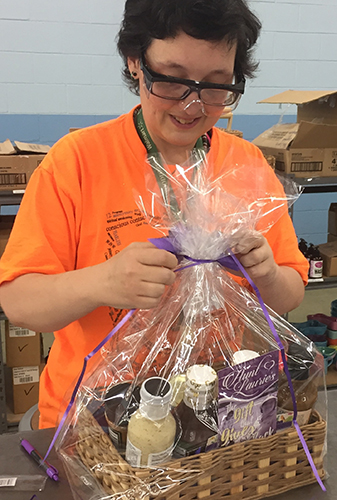 Aunt Laurie's has won multiple awards including the 2017 Hilton Head - Bluffton Chamber Small Business of the Year, 2017 SCORE National Community Impact Business, and 2016 Bluffton Start-up Business of the Year awards. To view these incredible gift baskets, visit auntlauries.com/ and follow Laurie Brown @auntlauries on Facebook, Twitter, Instagram, and Pinterest.
Have a great small business tip or want your business to be featured with your small business advice? Submit your story.