November 02, 2017

Ever had to chase down a payment after someone signs an agreement with you? Results from a recent DocuSign survey show that over 65 percent of businesses experience payment delays or failure to collect altogether. The two-step, disjointed process that first involves closing a deal and then later collecting a payment leaves uncertainty for receiving on-time payments. That's why DocuSign worked with Authorize.Net to create a solution that allows Authorize.Net customers to collect signatures and payments together at the same time.
Introducing DocuSign Payments
DocuSign Payments is a new feature from DocuSign that offers a fast and easy way to collect electronic signatures and payments in just one step so you can get paid faster. What's more, you'll be able to stop chasing after payments and invest that time growing your business.
Whether you're closing a deal on an event rental space and collecting a deposit, signing a new client up for an insurance policy and collecting the premium, or receiving a signed waiver for an athletic event and collecting the registration fee, the value of DocuSign Payments is practically limitless for businesses large and small.
With DocuSign Payments, it's intuitive and easy to send an agreement for electronic signature and payment:
1. With just a few clicks, connect your existing DocuSign and Authorize.Net accounts (it's a one-time setup!)
2. Drag and drop the "Payments" request onto your agreement
3. Specify your payment request details, and click "Send"
The signer(s) of your agreement will receive an email notifying them they have an agreement to sign and pay and directing them to click a link that opens the agreement securely in the DocuSign cloud. Signer(s) can quickly, easily and securely:
1. Complete any required fields within the agreement like address, phone number and title
2. DocuSign the agreement
3. Pay with a signature debit card or credit card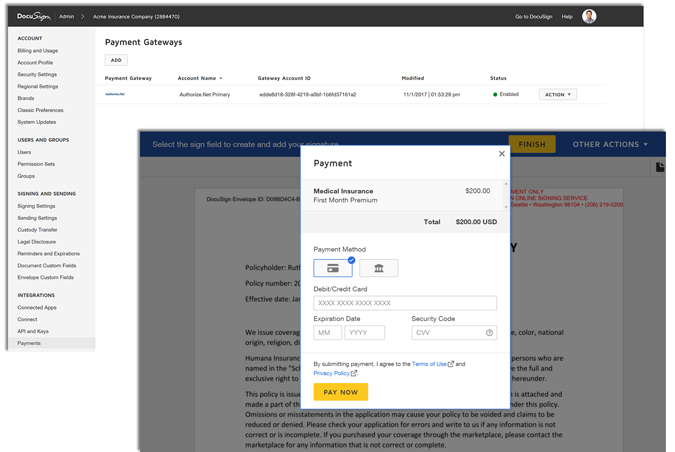 DocuSign Payments is available in the U.S., U.K., Australia and Canada. For more information, visit www.docusign.com/payments
Guest Author: Bryan Fong (DocuSign)