June 16, 2016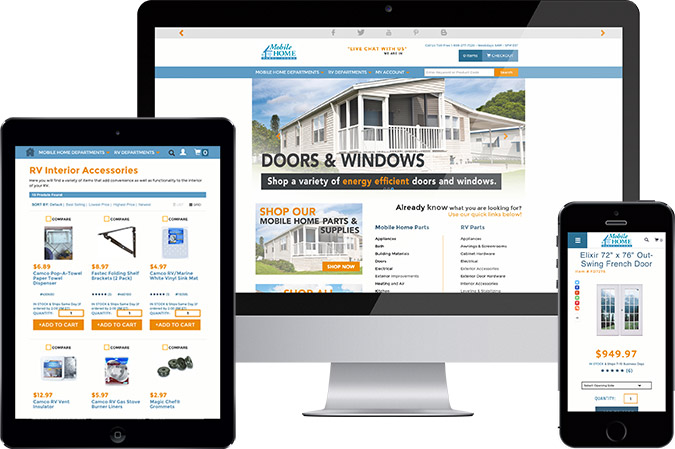 By George Anderson / 216digital
The Business
Since 2002, Mobile Home Parts Store has offered the largest online selection of products for all types of mobile home improvement projects. Based in Laurinburg, North Carolina, its founder, Pate Peele, turned his experience in selling mobile homes and his valuable relationships with mobile home parts distributors into a thriving retail business.
Initially, Mobile Home Parts Store sold out of a small brick-and-mortar establishment in Laurinburg. But Pate had a vision. As his son, Tim Peele, puts it, "My dad knew that the Internet was the future of business." Pate decided to take his business online, knowing he could reach a larger market. It was 2002, and e-commerce was still a relatively new field. But Pate bought web development software and taught himself HTML to get the site up and running. Tim remembers the dedication that his father showed in launching his e-commerce store. "My dad would stay up until four in the morning working on the site," Tim says. "It was pretty wild."
Pate brought Tim into the business early on, working side-by-side for many years before Tim took the reins as head of the company. Under his leadership, Mobile Home Parts Store has continued to adapt to a changing economy and a changing e-commerce landscape.
The Challenge
Mobile Home Parts Store was already using Authorize.Net for seamless and secure payment processing. But as the business continued to grow, it needed a new, mobile-responsive, e-commerce website. And it also needed something else: a secure way to store sensitive customer information with Authorize.Net. As Tim remembers, "Customers had to re-enter their credit card every time they wanted to make a purchase. It was pretty annoying."
Tim knew that storing customer information would provide a quicker checkout process, but providing that experience to customers would require significant updates to their e-commerce site. Mobile Home Parts Store had worked for years with 216digital, Inc., a digital marketing, design, and development agency in Cleveland, OH. 216digital had helped Tim with competitive marketing, website design, and custom e-commerce functionality so it was the first place Tim turned to for help.

The Solution
Though Mobile Home Parts Store had used Authorize.Net since 2002, it needed to integrate the Authorize.Net Customer Information Manager (CIM) into its e-commerce store to begin storing customer information. "The site was using the Miva shopping cart platform with a pre-built module to handle a standard Authorize.Net integration," said Greg McNeil, CEO and Founder of 216digital.  "We leveraged our expertise developing for the Miva shopping cart to design a custom CIM integration for the new e-commerce store."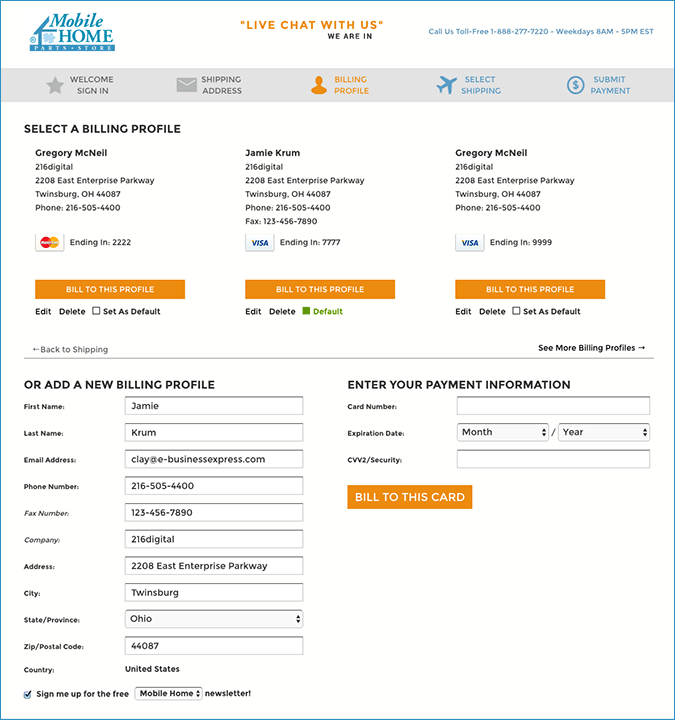 The Results

"They really nailed it," says Tim of the new site design from 216digital. After the new site with CIM launched, returning customers could easily store their credit cards on file. As Tim put it, "I have quite a few repeat customers who buy monthly or even weekly. It's just easier for them to pop on the computer, buy what they need, and be done. It's a huge help and a huge convenience. If I was a repeat buyer, I would want that feature."

With the launch of the new site, Mobile Home Parts Store saw an immediate increase in their e-commerce conversion rate. Repeat customers could now store their credit card information securely, and checkout became a breeze. In the first five days of the new site, Mobile Home Parts Store saw a huge rise in its e-commerce conversion rate: 66.39% for desktop, 56.08% for mobile, and an incredible 133.48% for tablets.

Authorize.Net's CIM has become a critical piece of the e-commerce puzzle for Mobile Home Parts Store, and 216digital's integration of this custom functionality is an invaluable asset. Combined with a mobile-responsive redesign, the CIM integration has produced an intelligent, secure e-commerce experience for Mobile Home Parts Store's customers – an investment that offers tangible returns.

For custom Authorize.Net integrations and ecommerce development services, email the 216digital team team@216digital.com or call (216) 505-4400.
Would you like to see your story featured on our blog?  Take a moment and submit your customer story.