August 09, 2018
Laura and Michael Dweck bring a new standard to basics with their clothing brand, Basic Outfitters. They have been featured on GQ, Shark Tank, Vogue, People and in the Forbes 30 under 30. Learn how this basics brand is revolutionizing the way consumers shop for basics and how they use Authorize.Net to make online purchases safe and easy for customers.
What inspired the creation of Basic Outfitters?
Basic Outfitters was launched due to a very real problem co-founders Laura and Michael Dweck encountered after merging lives (and closets) in a cozy NYC apartment. It was quickly obvious whose clothing collection would take precedence in their precious and limited closet space. Michael's eclectic and long-time accumulated sock and underwear assortment would have to go and be replaced by a fresh, new and curated collection of basics. But they soon realized shopping for a fresh assortment of basics was not only stressful, but expensive, so they set out to create a solution for men to replace their old socks and tees with high-quality product at affordable price points.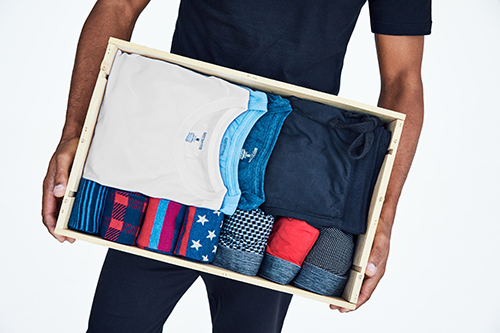 Basic Outfitters has some established brands to compete with. What distinguishes your company from the competition?
We are disrupting the industry by revolutionizing the way you shop for basics.
Basic Outfitters was born out of the demand for high-quality, well-priced, fashionable and comfortable basics. There are certain pieces of clothing that all men must refresh, like socks and underwear. We recognized the void in the market for refreshing such pieces in an affordable, convenient manner and sought to correct that. With our flagship service, Create-a-Drawer, customers are able to refill their entire basics drawer with up to 19 basics including socks, underwear, t-shirts, loungewear for only $60.
What is it that your customers appreciate the most about Basic Outfitters?
Our customers want convenience that does not sacrifice quality. We offer customers unprecedented value with high quality, low priced basics such as socks, underwear, T-shirts and jogger sweatpants sold online at www.basicoutfitters.com. We not only focus on what our customers are shopping for but how they shop and provide the ultimate value and convenience through our Create-a-Drawer experience. We truly care about how invincible you feel when you wear our basics.
How has having an online presence with Authorize.Net affected your business?
Other than offering our customers unprecedented value with our high-quality, low-priced basics, we are also offering unparalleled convenience. Without processing credit cards, we would not be able to do that. Our web development team said we had to use the best to ensure security and reliability, so we chose Authorize.Net. The Advanced Fraud Detection Suite has definitely helped us save money, as it has been extremely reliable and accurate. We're passionate about our customers and providing a convenient shopping experience for products that makes them look and feel their best, and Authorize.Net enables us to do so.
Check out Basic Outfitters' website, and follow @basicoutfitters on Facebook, Instagram, and Twitter.
Have a great business and want to be featured on the Authorize.Net blog? Submit your story.