Guest Blog Contributor: Rebecca Lannon is the Client Solutions Manager at Shipware, LLC, a San Diego-based parcel consulting firm. Rebecca has over 11 years of direct carrier experience and has developed a keen understanding for how the carriers structure margin-based parcel contracts. Rebecca is now dedicating her career to assisting well-known companies dramatically reduce their shipping costs.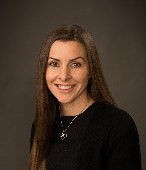 Just because the carriers are raising their shipping rates in 2019 doesn't mean you have to increase your transportation budget or operational costs. Together Authorize.Net and Shipware are working for you to keep your expenses in line with your company's growth, from back-office transportation expenses with Shipware to the simplification of payment processing with Authorize.Net. 
On November 5th FedEx announced its General Rate Increase (GRI)…and the Shipware team has worked to provide you an initial analysis of the changes.   
In Summary:
FedEx Express and FedEx Ground, subsidiaries of FedEx Corp. (NYSE: FDX), will increase shipping rates effective January 7th 2019 by an average of 4.9% while FedEx Freight will increase by an average of 5.9%.
In addition, there will be changes to FedEx surcharges and minimums also effective on January 7th. 
 The MOST IMPACTFUL news is that these are not across the board increases – it's an 'average' increase. You can see below that 4.9% can be equivalent to as much as 8.2%.

FedEx also announced Express and Ground minimum increases that range from 3.5% to 5.4%: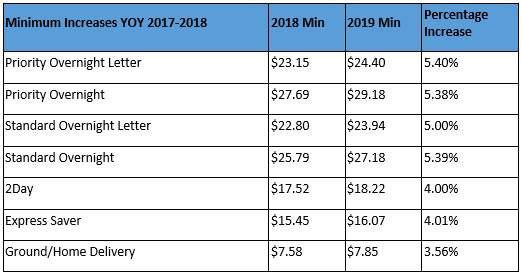 Surcharges and Fees will be increasing in most cases upwards of 5% in 2019. One fee is even doubling showing a 100% increase.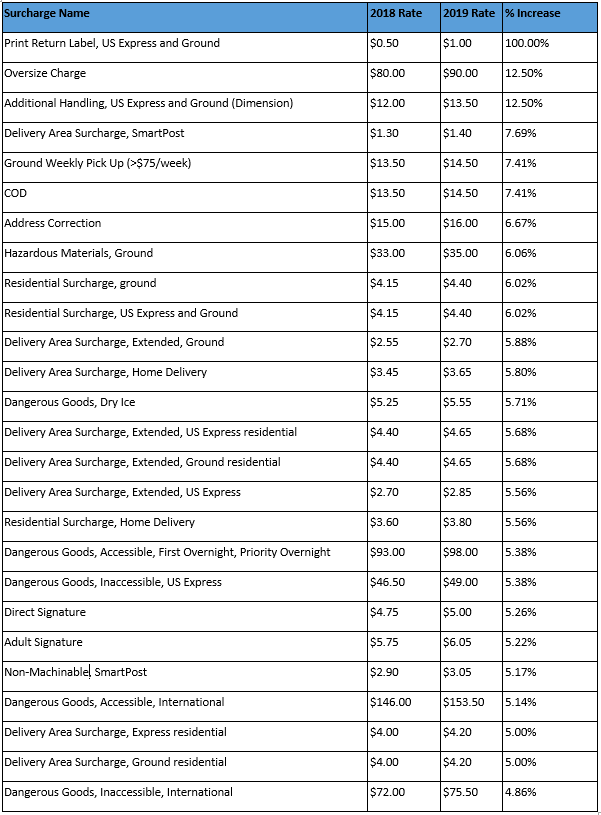 We believe that FedEx shippers should conduct a thorough analysis to detail the financial impact of the rate increases; and work with FedEx to push back and minimize their effect.
On December 5th 2018: UPS Announced Their 2019 Rate Increases
Shipware Preliminary Analysis: What you need to know
United Parcel Service (NYSE: UPS), will increase shipping rates effective December 26th, 2019 by an average of 4.9% for UPS Ground, UPS Air & International services while UPS Freight rates will increase by an average of 4.9% on December 27th, 2018. The change will impact the following:
UPS Daily Package Rates including UPS Ground, UPS Air, and UPS International services
UPS Alaska and Hawaii Daily Package Rates
UPS Retail Package Rates including UPS Ground, UPS Air, and UPS International services
UPS Hundredweight Service Package Rates
UPS SurePost Rates
UPS Air Freight Rates
U.S. Origin UPS Express Freight Premium Direct Rates In addition, there will be changes to UPS surcharges and minimums also effective on December 26th. Notable of those changes for 2019 include the following:

Here are some highlights from the announcement, showing the changes to some of the more common surcharges, along with the percentage increase. In recent years, the largest increases continued to be reserved for those surcharges related to package size and dimensions, and this year we also see US increasing the Third Party Billing Fee by 80%.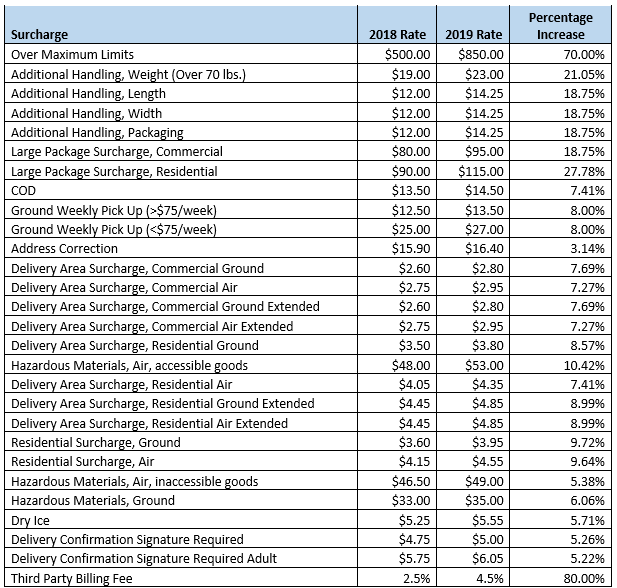 Take a closer look at Additional Handling, Large Package Surcharge and Over Maximum Limits. UPS increased these accessorials during the 2018 General Rate Increase in December 2017 and then again in July 2018, and all 3 are going up again. Additional Handling Weight has increased over 91% in 12 months. 

The comparison below of 2018 rates to 2019 rates shows the actual impact by service and weight break.  In many cases, the actual increase is over 5% - even as high as 9.34%.

An analysis by zone reveals that the increases deviate from the 4.9% mark quite a bit. SurePost<1lb is taking the biggest hit with zone 2 increase of 9.87%.

This year, UPS is giving its customers only 3 weeks' notice of the 2019 increase whereas many contracts state that there must be a period of 30 days' notice. Some of the most notable changes in 2019 will be the following: 
Fuel surcharges will now apply to more surcharges than ever before.  Included among those are Additional Handling, Over Maximum Limits, Signature and Adult Signature Required.
Fuel surcharges are scheduled to increase, but details won't be available until 12/27/2018.
UPS will charge a processing fee when Package Level Detail (PLD) is not provided to them prior to delivery.
Both UPS and FedEx continue to create a more complex pricing environment year over year. Many shippers understand that there is usually very little correlation between the carriers' announced average increase and the actual increase by service level, zone and weight.  The impact to their parcel budget can vary significantly from the announced average increase depending on their shipper profile. A more thorough analysis by Shipware's team of consultants will be forthcoming. 
About Shipware
Shipware delivers volume parcel and less-than-truckload shippers intelligent and innovative distribution solutions and strategies. Whether you ship with FedEx, UPS, USPS or regional carriers, our invoice audit and negotiation services are guaranteed to reduce your parcel and LTL shipping costs by 10 to 30 percent, with no disruption of current operations. Our team of experts has more than 200 years of carrier pricing experience. We have negotiated thousands of FedEx, UPS and LTL contracts – saving our clients an average of 19 percent.