December 14, 2018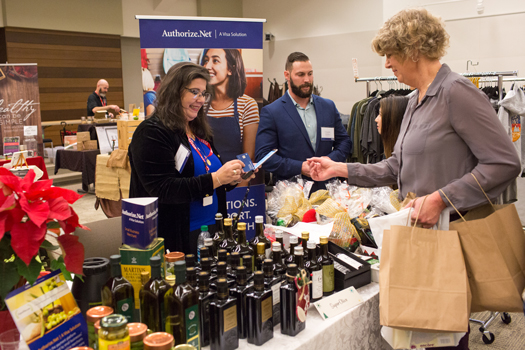 On Wednesday, December 5th, SuperOlive joined 36 other small business merchants at the first Authorize.Net Pop-Up Shop as part of the annual Visa Holiday Boutique in Foster City, California. SuperOlive's boutique pop-up featured an array of healthy and nutritious olive oil and olive products, ranging from locally-sourced Californian artisan olive oil to specialty olive products imported from the Mediterranean. 
Throughout the day, Evangeline demystified the art form of olive oil creation for event attendees, explaining the olive oil-making process and discussing topics like regional differences between olive oils. Event participants had the chance to sample an array of mild and extra virgin olive oils before selecting their purchases.
"We had a great experience at the event. As an online business, events like the Holiday Boutique are especially valuable for establishing face-to-face connections with our customers," Evangeline commented on the experience. "Being able to offer samples of a variety of olive oil selections and walk customers through the process helps them discover more of what they like… and has even helped to create new loyal customers."
As SuperOlive is an ecommerce merchant, a face-to-face experience is not typically possible for online customers. At the Visa Holiday Boutique, however, SuperOlive was able to bring their eCommerce superstore to the physical space by using the Authorize.Net supported mobile card reader and mobile app. 
With SuperOlive already using Authorize.Net's secure payment gateway on their website (www.SuperOlive.com), Evangeline was able to accept mobile payments after attaching the card-reader to her smartphone and installing the Authorize.Net mobile app. Evangeline commented, "Authorize.Net has been  seamless for us for our ecommerce business, and the integration with Authorize.Net was quite easy and great to use." (Learn more about making mobile payments with Authorize.Net).
Authorize.Net hosted SuperOlive as their first-ever live merchant within a greater pop-up initiative. The initiative, led by Authorize.Net and CyberSource's Strategy team, was organized to showcase Authorize.Net and CyberSource's small business merchants and enable them to bring their online stores to the physical world, or their presence to new areas and events. Ashley Springer, Sr. Director of Strategy for Authorize.Net and CyberSource, commented, "We're aiming to humanize digital payments and demonstrate how Authorize.Net and CyberSource solutions enable merchants to grow their business. This series of pop-up shops provides the opportunity to support small business merchants and see first-hand how seamless customer experiences are shaped by payments."
Ultimately, Visa looks forward to hosting future pop-ups and to working with merchants like Evangeline and SuperOlive in the future - her presence was a welcome (and delicious) one at the Annual Visa Holiday Boutique! To learn more about SuperOlive, visit their online store.