October 31, 2016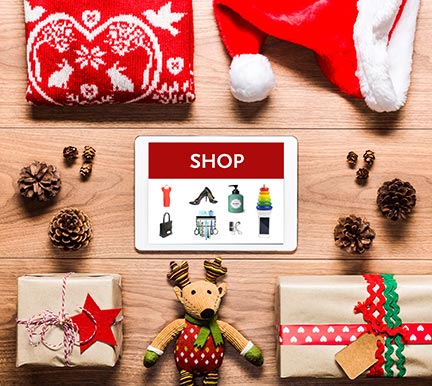 Holiday sales can bring cheer to the heart of any small business owner. However, you need more than Santa's magic to have a successful holiday season. Good preparation is one of the key ingredients to produce a record-breaking holiday season for your business.
Prepare Inventory Early
If you don't prepare your inventory ahead of the holiday season, you may find your shelves empty of your biggest sellers, forcing you to miss out on big sales. Consulting previous holiday season sales records can help you determine which items you need to stock in large quantities. If you're running special promotions on certain items, be sure to stock up with extra quantities of those items. Check with the sales representatives of your most important vendors; they may be running holiday specials of their own to make it easier for you to stock up ahead of the holiday season.
Refresh Your Website
Updating your website with a seasonal look will inspire your customers to start thinking about their holiday shopping. In addition to giving your website a facelift, an investment in upgrading your server's capacity can help you meet a rush of demand from your customers. Make sure your website also offers the latest security measures. Help minimize and prevent authorization and chargeback fees as well as possible inventory loss resulting from fraudulent transactions by adding Advanced Fraud Detection Suite included with your Authorize.Net Payment Gateway account.
Plan Promotions
Promotions are an excellent way to attract new customers and bring back former customers. If your business is online, free or reduced shipping is always an attractive choice. You can also offer coupons and discounts on orders. You'll also need to decide if you want to offer special deals on popular shopping days, such as Black Friday and Cyber Monday. Once you've decided on your promotions, you can use your social media profiles to advertise your special deals and keep your customers in the loop about shipping deadlines and your store's holiday hours.
Hire Seasonal Employees
Seasonal employees are a great way to handle the extra large crowds that often accompany the holiday season. Carefully consider where you need the most help; you may need extra hands on deck to staff your warehouse or run the cash registers. Hiring extra help before the holiday shopping season starts can give your temporary hires time to become fully trained before the rush of crowds overwhelms your business.
Add Flexible Payment Options
During the holidays, your customers may feel stressed with party planning and long shopping lists to complete. Offering easy and flexible payment options is a great way to remove some of the stress from holiday shopping. With Authorize.Net you can accept payments anywhere. Accept credit cards and eCheck.Net® on your website. Accept payments in person using the Authorize.Net mPOS mobile app and secure card reader available here. Or set up Visa Checkout where your customers can easily pay online with a single sign in.
Brush Up Customer Service Skills
Good customer service is always a plus, but during the holiday season your customers will appreciate it even more. Take time to work with your employees to instill a positive customer service attitude and teach them conflict-resolution techniques. Delight your customers with candy canes in their shipments or hot apple cider in store. Employees who can handle difficult situations with a smile will be remembered by your customers and boost your company's reputation.
The holiday season can bring challenges to small businesses, but also opportunity for great successes. Planning your holiday strategy early can help you meet those challenges and make your customers happy.
For more business tips and advice, visit the Authorize.Net blog weekly. Have a great small business tip or want your business to be featured with your small business advice? Submit your story.