January 30, 2017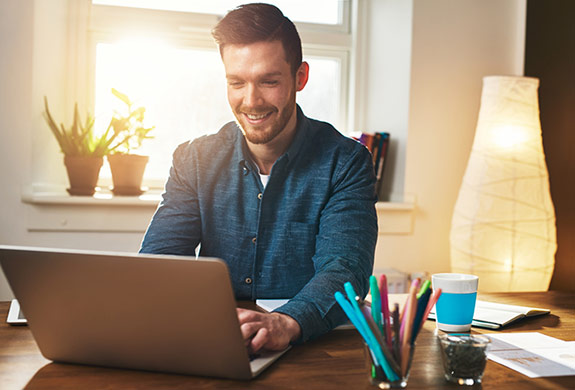 If you run a business from your home, you know it comes with amazing freedoms and challenging distractions. It's important to take steps to optimize and maintain your effectiveness so you can continue to enjoy the excitement and freedoms of being your own boss. The following tips will help you be productive as you run your home business.

1. Create an Office
When running a business from home, it's easy to work from your living room or bedroom, but doing so can add unnecessary distractions. Having a dedicated work area will help you to stay focused. You can turn a basement, spare bedroom, or garage into an office. If doing so is not an option, consider turning a small section of one of your rooms into an office and make it the dedicated space. The Internet also has lots of good ideas for how to turn a vintage trailer or backyard shed into a workspace.
2. Create a Schedule
Many business owners who work from home say they are "always at work" since there is no separation between their office and house. The work day doesn't end when you leave the office like it does in a traditional job. Some make a habit of working all day without taking any breaks, which can cause stress. Others fall into the trap of not getting started at the same time each day. To help you stay on track, set a daily schedule and stick to it. Let work time be work time and off-time be off-time. Having a set schedule and taking planned breaks will help you be more effective when you are working.
3. Remove Distractions
Distractions can be an issue for those who work from home, so you need to prepare yourself. To stay on track, let your friends and family members know that you have dedicated a certain amount of time to your business each day. Getting distracted is easy, so setting and enforcing boundaries will allow you to keep your business moving in the right direction. Apps like RescueTime and MyMinutes can track how you are spending your time and even block distracting websites while you work to stay focused.
4. Separate Your Personal Life
Working from home makes it easy for your business responsibilities to conflict with your personal life. Avoid taking personal phone calls during your work hours and doing personal chores like cleaning the house, cooking meals, and grocery shopping. Even though you are home and doing these things is tempting, you need to limit them to your off hours. Similarly, avoid engaging in work-related activities outside of your normal schedule.
5. Keep Records
Some business owners procrastinate when it comes to keeping meticulous business records, but doing so can make things that much more difficult in the future. Keep separate bank accounts for your business and personal items and keep accurate records at all times. You can use software programs like QuickBooks that are designed to make the process simple.
6. Stay Social
Running a business from your home and potentially staying inside most of the day makes it easy to lose touch with people, but not socializing can impact your emotional health in a negative way. No matter how busy you are, always take the time to stay in touch with your friends and loved ones.

Have a great small business tip or want your business to be featured with your small business advice? Submit your story.