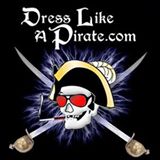 Shayna Vest, of Dress Like A Pirate.com, an Authorize.Net merchant, shares her story and business advice.
Tell us about your business Dress Like A Pirate.com
Based out of Portland, Oregon, Dresslikeapirate.com is one of the world's most popular theatrical costuming, pirate, theme wedding and roleplay garb sites.
I'm a single mom, entrepreneur, goddess and pirate and I started Dresslikeapirate.com in 1996. I was selling vintage clothing on eBay. One day I attended a co-workers wedding where all of the women dressed like fairies and the men like pirates! My passion found a niche market.
After receiving the first 75 pirate shirts and selling out in three weeks, I was told by the post office clerk "Did you know that September 19th is Talk Like A Pirate Day?" Well, I rushed home, looked it up, found out the Pirate Guys were right down the road in Albany, Oregon, and exclaimed, "You guys will be my friends for life!" I named the new venture Dresslikeapirate.com. To this day, the Pirate Guys are my friends, my son has played with Chumbucket's son, and I dressed his wife for the pirate episode of Wife Swap.
What Makes You Successful?
I think what makes me successful is that I steer my vision to the road ahead and am constantly trying new ideas and ways of reaching people instead of trying to counter copycats and competitors. I've found my particular talent is the original ideas and designs.
What would be your advice to other small businesses out there?
My business advice to other entrepreneurs is based on inspiration I found in a book I read by Seth Godin, Purple Cow: Transform Your Business by Being Remarkable. You have to have something that no one else has, or do it in a way no one else does, that's what sets you apart.
How have you been able to reach this niche market?
Authorize.Net enables us to accept payments on our website so we can offer our high quality pirate costumes, clothing and accessories to the world. Authorize.Net is the only processing gateway I'll ever use. The customer service is fantastic. They've helped me in a number of situations that required extra information and help.
To learn more, visit www.Dresslikeapirate.com

For more business tips and advice, visit the Authorize.Net blog weekly. Have a great small business tip or want your business to be featured with your small business advice? Submit your story.


The Business
Since 1985, the Downtown Statesville Development Corporation (DSDC) has worked with the city, local downtown businesses and other community organizations to help drive revitalization efforts in Statesville, North Carolina. These efforts have included a massive downtown streetscape improvement project, a downtown marketing program and over 20 downtown events to help attract visitors and citizens to help grow the local business economy.
The Challenge
In 2016, the DSDC wanted to find a way to promote downtown city events, including creating an online ticket purchasing solution and an online vendor booth application system. They also wanted their local bank, Yadkin Bank, to be the credit card processor.
DSDC Director Marin Tomlin contacted Cashklick, an innovative local marketing and technology company, to create various custom solutions to fulfil the needs.
The Solution
Cashklick created several custom pieces of software to help implement ticket sales and vendor applications, as well as promotional software to help market events. Cashklick's solution included an events calendar on both the website and Facebook for ticket sales. Cashklick also provided DSDC with a promotional newsletter solution to help market events complete with "buy now" or "apply now" buttons.
This feature has proven popular with users who can now purchase tickets for events or sign up for tours. Vendors can use the system to apply for booth space and submit payment and gives DSDC the chance to approve each application via the backend.
"Cashklick is integrated with Authorize.Net and we are a resale partner," says Sharon Wahrmund, VP product and operations. "Three years ago Cashklick switched to Authorize.Net when we started to experience some issues with another vendor. Cashklick takes ecommerce seriously, we searched for a reliable solution and a vendor that would work with us as a partner. Our team has been quite happy with the results too. The Authorize.Net solution is extremely dependable. We recommended using Authorize.Net's secure payment gateway solution and Virtual Point of Sale to DSDC to meet their online payment needs."
The Result
The DSDC first event, a wine walk, sold out. The organization is currently setting up new events including a Ghost Tour, Hops & Harmony Craft Brew Fest, and Pumpkin Fest. Cashklick has future plans to expand even more programs with DSDC.
"By implementing these solutions, DSDC has helped spur our local economy and helped create our first sold out ticketed event," says Tomlin. "We're very happy with the work that Cashklick provided and thanks to Authorize.Net we're thrilled to be able to accept payments online and use our local banking credit card processor Yadkin Bank. It's been a win/win for our local community."
To learn more about Cashklick, visit https://www.cashklick.com/
To learn more about Downtown Statesville, visit http://www.downtownstatesvillenc.org/

For more business tips and advice, visit the Authorize.Net blog weekly. Have a great small business tip or want your business to be featured with your small business advice? Submit your story.