Authorize.Net Merchants,
Rumors have been swirling that Authorize.Net will be introducing an improved Customer Support website this year. Well it's official; we're pulling back the curtain on the updated site and a brand new customer experience. There's too many changes to list, but here's a look at some of the improvements we've made.
Keeping It Simple
The most notable change in the site is the redesigned interface. It has a clean look and feel, which translates to a very user-friendly experience. Now it's easier to find what you need.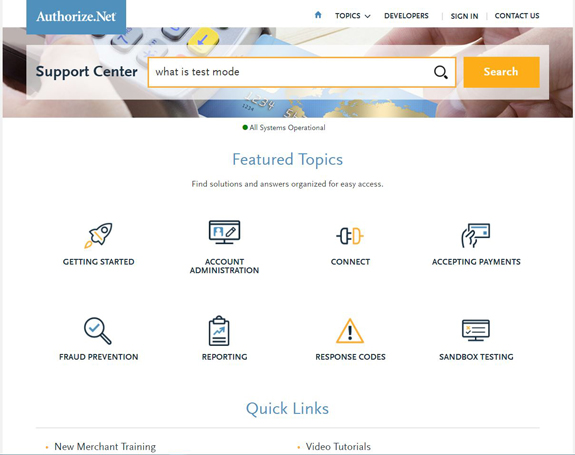 Searching Is Easy
For those times when you think you might be close to knowing how to resolve a support issue, it might make more sense to just search for documentation. We've made it easier and quicker for customers to search for and find the support documents they need.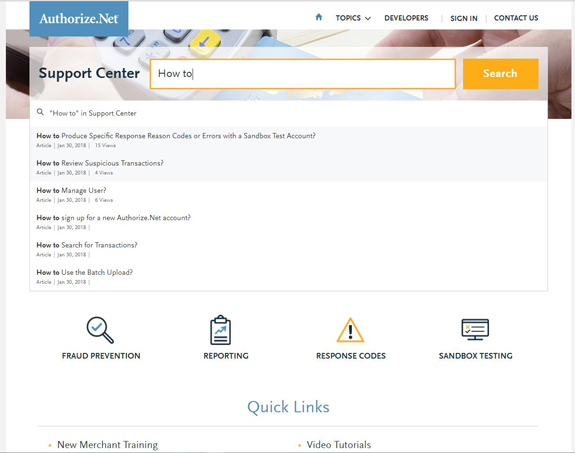 Simplified Support Requests
Submitting a request for support shouldn't be difficult. We've simplified the submission process for support requests thru General Support case and custom case types (Apply for ECC and Processor Update), along with reducing the number of required information fields.
The new search system performs searches on the text you are entering to offer up solutions/answers whereas the legacy search function wasn't as interactive or intelligent and it required you going thru multiple steps to be offered up a potential answer.
Mobile Friendly
Being able to do work away from an office desk is essential in today's business environment. We've provided a new mobile-friendly user experience.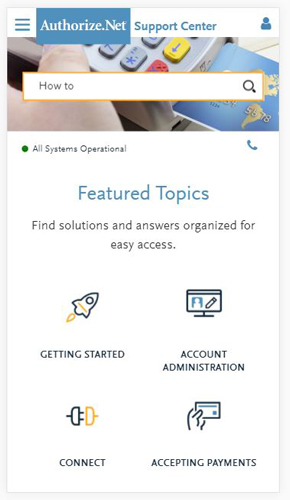 Visit the Authorized.Net Support Center to check out all of the improvements we've made to the site. It should be pointed out that you'll still interact with the site in all the ways that you are used to—it's just going to be better. Thank you to all our Authorize.Net customers.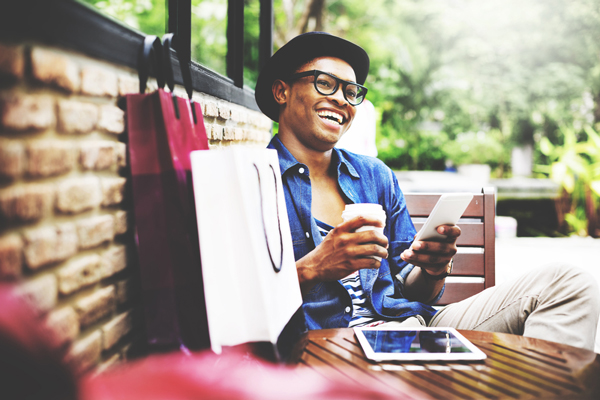 For most businesses, repeat customers form the backbone of their revenue. Cultivating returning customers allows you to reap the benefits from these customers, including lower marketing costs, larger purchases and dependable revenue. However, recurring customers don't come with your storefront; attentive service and community outreach are just some of the steps you'll need to take to develop a loyal group of core customers.

Share Your Knowledge
Content marketing is one of the most effective forms of online marketing — and it costs nothing if you create the content yourself. Does your website have a blog section? Write informational content that you believe would appeal to your potential customer base. Within your field, you have unique knowledge that your customers may lack. By sharing knowledge, you'll attract search engine traffic from people who are seeking information in your industry. Every time the information that you provide helps someone, you'll strengthen your brand and establish yourself as an expert within your field.
Offer a Loyalty Program
Loyalty programs are a relatively simple way to incentivize customers to return to your business. You can structure them however you like, but they all boil down to the same format: for each set amount of business the customer gives you, you give them something. To maximize the effectiveness of your loyalty program, give your customers a head start when filling out their first loyalty card. The head start you give your customers increases the completion rate of your loyalty program, encouraging customers to make more repeat visits to your shop.

Provide Excellent Service
In today's ultra-competitive marketplace, few things help a business stand out like excellent customer service. Providing great service doesn't mean you have to just cave in to your customers for every little demand, but it is important to demonstrate to your customers that you care about them and their needs. When something goes wrong, own up to the mistake and work to fix things for the customer. Train your staff to say yes to your customers whenever possible and focus on finding solutions to customer problems.

Become Part of the Community
Hosting regular events for your community provides you with an opportunity to bond with potential customers and increase the visibility of your business. These events don't have to relate directly to your business, but focusing on your business' mission is an easy way to come up with ideas for your events. For example, if you run a nursery, you can host gardening classes on native plants. A bookstore could hold release parties for popular books or host readings with local authors. Your business could also host parties for important local events, such as a local school's homecoming week.
Listen to Your Customers
If you aren't afraid to listen to your customers, they'll tell you exactly what will get them to come back to you. Sometimes, you might have to bite your tongue to hear a customer complaint, but other customer suggestions are more positive. For example, one of your customers might have a favorite brand that's difficult to find; providing them with a source for their favorite product is an easy way to garner a repeat customer. Of course, you'll always have to use your best judgment when you decide whether to act on customer feedback; some suggestions simply aren't viable. If you can't see an obvious downside to a customer's suggestion, however, err on the side of making your customer happy.
Provide Something Unique
If you want to stand out in today's marketplace, you need to provide something that your customers can't find elsewhere. You can't expect to simply bring in products, put them on the shelf and instantly sell out; if your customers want that kind of experience, they can find it in a million other places. That unique flavor that you provide might be a service that can't be duplicated, a viewpoint that's unique to your shop, or advice that's tempered with your years of experience. Whatever it is about your business that can't be found elsewhere, don't be ashamed of it; embrace those elements and trumpet them in all of your advertising.
Provide an Easy Checkout Experience.
Customer Information Manager from Authorize.Net is a service which allows you to store your customers' sensitive payment information on secure servers for use in future transactions. CIM helps eliminate steps in the checkout process for repeat customers, potentially increasing loyalty and revenue. It can also help you reduce the Payment Card Industry (PCI) scope, since customer information is no longer stored on your local servers.

Have a great small business tip or want your business to be featured with your small business advice? Submit your story.