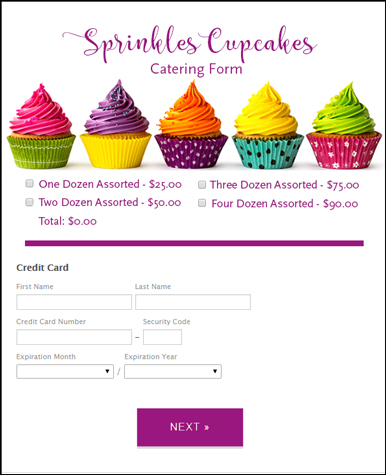 With over 440,000 merchants, Authorize.Net has one HUGE small business community, which is just one of the reasons so many third-party solutions integrate to our payment gateway. This series of blog posts highlights our partners and their unique offerings that meet all of your business needs.
Today's Topic? Form Solutions.
We know that many merchants do not need a full shopping cart or online store. Additionally they may not be ready for a fully integrated custom solution. If you are one of these merchants, a form solution to accept payments might be the perfect fit.
Benefits of form solutions include:
• The ability to accept payments on your website easily and securely
• A payment experience that blends seamlessly with your website's design
• The flexibility to make minor changes without hiring a developer or Web agency
"Collecting money should be simple," says Authorize.Net Marketing Manager Richard Holder. "Form solutions allow businesses to get rid of paper forms and start easily collecting payments with an online form."
Authorize.Net currently includes three form solutions in our Certified Solutions Directory: Formstack, JotForm and Wufoo. Read on to learn more about each solution and how to contact them.
Formstack is an easy-to-use, secure online form builder that allows you to quickly create and deploy any type of order form to collect payments online. No coding is needed with its simple drag-and-drop interface, allowing you to create order forms in seconds. Formstack's secure payment forms integrate with Authorize.Net and adhere to the strictest security standards, and give you the power to route information wherever you need it. Set up payment calculations, gather coupon and discount codes, and keep your data updated with over 35 popular Web app integrations. Multiple security features like 256-bit SSL, data encryption and password protection ensure that you can safely gather personal payment. Whether you need to create a simple online order form or to run your entire business online, Formstack makes it simple to collect the money you need to grow your business.
JotForm allows users to easily create powerful payment forms to collect orders, register event guests, process application fees, and accept donations – all without requiring any coding experience. Many businesses choose JotForm because of the tool's ability to enable recurring Authorize.Net subscription payments, sell multiple items on the same form, and include product images. JotForm has 10,000 ready-made form templates, dozens of integrations with popular CRMs, e-mail marketing services and 400 widgets to make it one of the most popular form builders for companies in the world. Major JotForm features include an analytics tool to measure form performance, a form theme designer for fantastic styling options, and custom autoresponder e-mails sent to customers. Plus, with recent JotForm updates, you can even create a payment form that integrates with Authorize.Net straight from your mobile phone. If you collect fewer than 10 payments each month through JotForm, it's completely free.
Wufoo's online form builder lets you create any form you need. Within its Form Gallery, you have over 90 templates and form examples to choose from — whether you're looking for contact forms, invitations, registrations, even survey templates. You can collect data, registrations and online payments you need without writing a single line of code. Its powerful payment integration features help you easily process credit cards and build your business securely. After designing your form or choosing a template, you can quickly assign prices to selections on your form, choose custom currency and select specific collection settings. Once you've shared your form, Wufoo's form analytics lets you dive into your data to track views, submissions and conversion rates. Wufoo's got the security you need so you can generate revenue with peace of mind. To learn more about how Wufoo and Authorize.Net can help you build your business today — click away!
Have a great small business tip or want your business to be featured with your small business advice? Submit your story.

Authorize.Net partner, 71lbs, has made a name for itself by helping businesses optimize their shipping spend. We invited Christine Ridgely, partner manager at 71lbs, to share her thoughts as our guest blogger.
Why Understanding your Shipping is a "Merchant Must"
As a merchant, you may know how important it is to stay on top of your business transactions. Shipping spend influences your overall profit margin. However, analyzing shipping spend often goes undone.
If the details of your shipping activity are not reviewed and understood, it can be very difficult to fully capitalize on each transaction processed. Many businesses do not actively monitor their shipping because they lack the time and resources to do so. Others expect late deliveries to occur as a part of conducting business, so they don't hold their shipping carrier accountable for service failures. Some are simply focused upon fulfilling orders and don't look back, only forward. The fact is that businesses are doing themselves a disservice if they are not auditing their shipping activity and the associated costs.
By actively monitoring your shipping, you can ensure that your business not only pays for the service that is promised by the carrier but also optimizes your overall shipping spend. Are you aware that if you ship with FedEx or UPS, the service includes a 100% money-back refund when a package arrives late, even by 60 seconds?
The first step is to commit to tracking your shipments on FedEx.com and/or UPS.com and then cross reference deliveries. Once you identify a service failure, you must file a claim. Note that the process of manually filing a claim is highly intricate and difficult to successfully navigate. Claims need to be filed within 15 days of the package's delivery and should include all necessary documentation and inspections.
Build your business smart and do not stand idle as it pertains to your shipping spend. It is more important than ever for merchants to stay informed about all facets of shipping, especially if refunds are involved. Whether you handle it internally or externally through a third party, you can and should identify and understand exactly where your shipping dollars go.
71lbs is a leading expert in helping businesses optimize what they spend on shipping. Their human-powered software solution monitors, identifies, and files claims on your behalf, allowing you to focus on your business and not use up valuable resources. All found refunds are credited directly to your FedEx and/or UPS account. No start-up or monthly maintenance fee is necessary.
Have a great small business tip or want your business to be featured with your small business advice? Submit your story.
Authorize.Net Merchant Amy's Candy Kitchen named "BEST CARAMEL APPLE" by the Wall Street Journal and featured on the Food Network, tells us how their small chocolate shop in Cedarburg, Wisconsin achieved their success.
We spoke with Paula Heupel, VP of Sales, about their journey that began 20 years ago with a goal to perfect the art of the caramel apple.
What makes Amy's award winning?
It comes down to our passion for quality, that's the Amy's difference. We use extra fancy jumbo granny smith apples in every luxurious caramel batch we make. Our caramel is always freshly made by hand in small batches. Our toppings are hand packed and garnished on every single apple we produce by our chocolatiers. We use only velvety, world-class Belgian Chocolate from Brussels as our base chocolate in everything we make. This uncommon attention to detail gives you a gourmet apple beyond compare.
How did Amy's go from being a small chocolate shop to such a big success?
We started by making Amy's Candy Kitchen a destination for locals and tourists. People walking through downtown Cedarburg couldn't resist the heavenly aroma of our caramel that fills our store. Our award winning caramel is hand made from premium quality natural ingredients in old world copper kettles which cooks our caramel at a slow consistency to provide a gourmet, buttery flavor that no one can match.
In 2002, our owner expanded the business and launched www.AmysGourmetApples.com making our best-selling apples available everywhere in the US and Canada. It's a favorite treat for so many people, so we're excited that Authorize.Net enables us to quickly and easily take orders online so we can offer our award winning caramel apples to customers even outside our Cedarburg community.
How has the word about your amazing apples spread?
Our gourmet apples have been featured in many different media outlets including winning the "BEST OVERALL" by the Wall Street Journal. We have also been featured on the Food Network as well as Roker on the Road, Martha Stewart, Epicurious magazine and local news media.
What would be your business advice to other small businesses out there?
Focus on one thing and do it well. Once you've achieved success give back to the community that supported you and helped made you successful. Amy's Candy Kitchen / Amy's Gourmet Apples takes pride in being a stronghold in the local Cedarburg community. We donate to the local Festivals, Chamber of Commerce, Santa's Workshop, the local food pantry and rescue farms. By donating products and providing discounts to the local schools, churches, the Humane Society, among other county programs, we help to make Cedarburg a great place to live, work, and visit.
Amy's Candy Kitchen/Amy's Gourmet Apples would like to thank our customers, as well as the local community of Cedarburg for supporting our business for the past 20 years! Try Amy's Gourmet Apples for yourself. www.AmysGourmetApples.com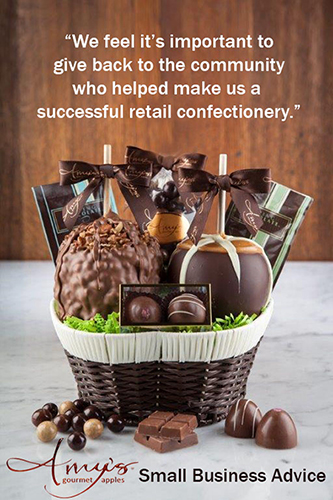 Have a great small business tip or want your business to be featured with your small business advice? Submit your story.