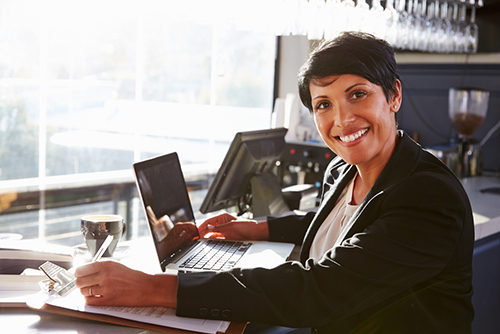 Business owners face new challenges constantly. These challenges can be particularly daunting for new business owners as they trade their 9-5 job for a 24/7 passion. Learning the attributes of successful entrepreneurs can help new business owners understand they are not alone, and provide motivation to keep navigating to their own success.
See the Big Picture
Many new business owners get caught up in the present. They are focused on navigating the problems that arise each day. However, successful business owners focus on the future. It is key to see the "big picture" and remain on a path that keeps a company meeting long-term goals. The market moves quickly, so it is essential to stay true to your vision and map out a road that gets the job done for tomorrow and beyond.
Experience Failure and Move On
Failure is an inevitable part of life. However, the way a person handles setbacks can have a profound effect on their business. A successful business owner works to understand the reason for the setback and understand how to avoid similar setbacks in the future so that when the next opportunity pops up the business will be well-positioned to achieve a positive outcome.
Take Risks
Taking risks may seem scary, but it extends the possibility of achieving success. A strong business owner assesses a situation and tries something that has the potential to maximize success without causing unnecessary jeopardy.
Mark Pincas, founder of the gaming company Zynga, walked away from a guaranteed source of funding for his first venture. Despite being short on cash, he decided against the deal, which did not fit with his vision. Not accepting the investment was a worthwhile and successful risk. Pincas secured money from a different source, remained in control, and eventually sold the company, which allowed him to establish Zynga.
Hire People Who are Better Than You
Winning business owners understand the importance of surrounding themselves with smart people. Learning to work effectively with others and use their strengths will help you gain success. For instance, if you develop a message that must be presented to the public but have poor social media skills, it might be wise to hire a person who knows the ins and outs of these platforms. A solid company has a team with various abilities and employees who unite their talents to form a powerhouse.
Find Trusted Partners
Partnering with trusted companies can help business owners run their business smoothly and effectively by taking the daily minutia off their plates so they can focus on growing the business. Partnering with Authorize.Net means business owners do not have to worry about how to accept payments from customers. From marketing needs to shipping products to customers, Authorize.Net has a Partner Directory and a Merchant Toolbox to help business owners find the right partners for their business needs.
Have a Competitive Spirit
A strong business owner usually has a competitive spirit and enjoys winning. Since starting a business is a big challenge, it is the perfect way to harness this energy. A competitive spirit is essential to win customers and increase market share.
Help Others
Leaders of successful businesses recognize the importance of networking. Although it is common to take help from others, a successful entrepreneur gives assistance without haste. He or she shares useful information, helps finish tasks and presents opportunities to colleagues.
Conclusion
Beginning a new business is not easy, so it is important to examine the traits of successful business owners. Although these qualities do not ensure success, they can help provide a better chance of growing a business and enjoying prosperity.
For more business tips and advice, visit the Authorize.Net blog weekly. Have a great small business tip or want your business to be featured with your small business advice? Submit your story.

As you may be aware, an Internet-wide security issue, commonly referred to as POODLE, has been identified in the last two weeks and affects anyone using older Web browsers that use SSL version 3 (SSLv3), specifically Internet Explorer (IE) 6. This issue creates a vulnerability that could allow hackers to gain access to any connection using this outdated Web browser.
Authorize.Net itself is not vulnerable to POODLE, but we are making changes to our systems to assure that we are providing our merchants and their customers with the highest degree of security possible.
To that end, on November 4, 2014, we will be disabling the use of SSLv3 within our systems. This means that if your website or shopping cart solution uses SSLv3 to send transactions to Authorize.Net, you will no longer be able to process transactions. You will also no longer be able to access any secure Authorize.Net pages from IE6.
We expect that a minimal number of our merchants will be affected. However, because we do not control how your particular site or solution sends transactions to us, this change could potentially impact your transaction processing. Please immediately contact your web developer or shopping cart solution to see if you will need to make any changes to your site or solution before November 4th.
Most modern shopping carts do not use this old technology in their solutions--in general, POODLE will only affect solutions that are older and use SSLv3. But again, because we do not control which method your systems use for transaction processing, we are not able to advise whether or not this change will affect you site or solution. We strongly urge you to contact your web developer or payment solution provider to find out for sure.
We apologize for the short notice, but security is of the utmost concern. Authorize.Net and most other payment and technology companies are disabling SSLv3 as soon as possible to help make sure that hackers aren't able to exploit this vulnerability.
If you have any questions regarding this change, please review our POODLE FAQs. You can also check out this post in the developer community for instructions to give to your web or solution developer regarding the upcoming change.
Thank you for your prompt attention to this urgent issue.
Posted by: David Schwartz, Sr. Marketing Director
One aspect that I truly love about my job is the opportunity to interact with Authorize.Net merchants and learn about all of the unique businesses that use the Authorize.Net platform for managing their payments needs. From startups to non-profits to brick and mortar retailers, we've got over 400,000 customers, which means over 400,000 stories to tell.
This week, we begin a new feature on our Facebook page in which we showcase a merchant each week and highlight their particular business.
Our first merchant is Growers Alliance Coffee, a fine gourmet, organic and fair trade coffee company based out of Jacksonville, Florida. Check out their video below to learn more about the company and make sure you visit and like our Facebook page to see our regular updates, including each week's Merchant of the Week.
If you are interested in seeing your business featured, please send us an email.
The Merchant of the Week is selected at the sole discretion of Authorize.Net and due to the high volume of merchants interested in participating, we regret that we are not able to honor all requests or respond to all inquiries about the program.